"I remember the sweet moments in my city when the snow was falling just before Christmas 2013. Looking out through my window our children, with their new hats and gloves, playing excitedly in the snow.  
In wasn't long after that, as the children were getting ready for school that everything changed. The phone rang and a friend warned us not to leave the house as 'Daesh' (ISIS) were in the streets nearby. 
In search of safety & security
When someone chooses to flee their homes to escape the terrors of war, this is not an easy choice. To leave everything they have known and worked for, for an uncertain future. For many of them the decision to flee is just the beginning of their traumatic journey to safety and so often the conditions that they are met with are far from providing them with the shelter and supplies that they need to survive.
MAKE A DIFFERENCE
Give so we can help those
in poverty and crisis
Drop off your Clothes Donations at any Collection Point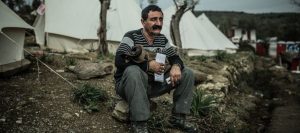 It was a lot to take in at once and as we got to know people it changed so many things about how I saw the Refugee Crisis. Going in I had a "Headline View" of the Refugee Crisis, when I came back I had gained the "Human View." I realized that the Refugee label had kept me from seeing those seeking refuge as people. I recognized that a Refugee is not a kind of nationality or citizenship, but a season of life and a journey.
Read More »
Sign up to receive updates
We will send you e-news about the refugee situation in Greece & Bosnia and our Water for Life Initiative